Vastu for Children's Room
Vaastu compliant kid's room helps you positive results making your child obedient and progressive. Every parent is keen to see their child's progress in every sphere of life. A lack of focus is the usual complaint from children and the designing the study room according to Vaastu recommendations is the key to this problem.
Children's room can be in North, North-West,North-East or East direction.
Adult, but unmarried Son's room should never be made in North-West direction. But for Adult, unmarried Daughter, it is best.
Study Table should be kept in North East direction but it should not pack the North-East completely. It should be kept leaving a space of around 2 feetX 2 feet in the corner.
Facing of the children while studying should be in East or North. For school going and College students, East is good and North is good for students preparing for professional Exams or Competition or Job etc.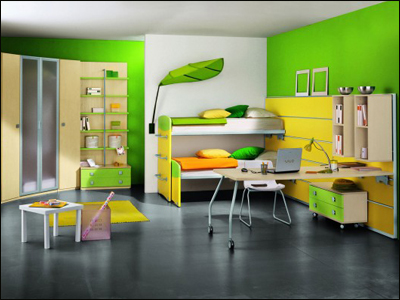 Color of the room should be light green as it is very good for studies and increases memory power.
Computers, laptop and other electronic gadget should be kept in NorthWest or SouthEast direction and the person operating the same should face North or East.
Centre of the room should be kept vacant.
Book shelf should be made in NorthWest direction of the room. If it is attached with study table, then height should be less with light weight maintained at the corner.
While sleeping, head should be kept in East.
Photograph of dead people should not be kept in Puja Room.
Shoe rack should not be kept in North East direction of the room.
Sleeper bed in kid's room is not good for their development. So use simple bed.
Besides above, please see tips for bedroom. All the points in that section is also applicable here.